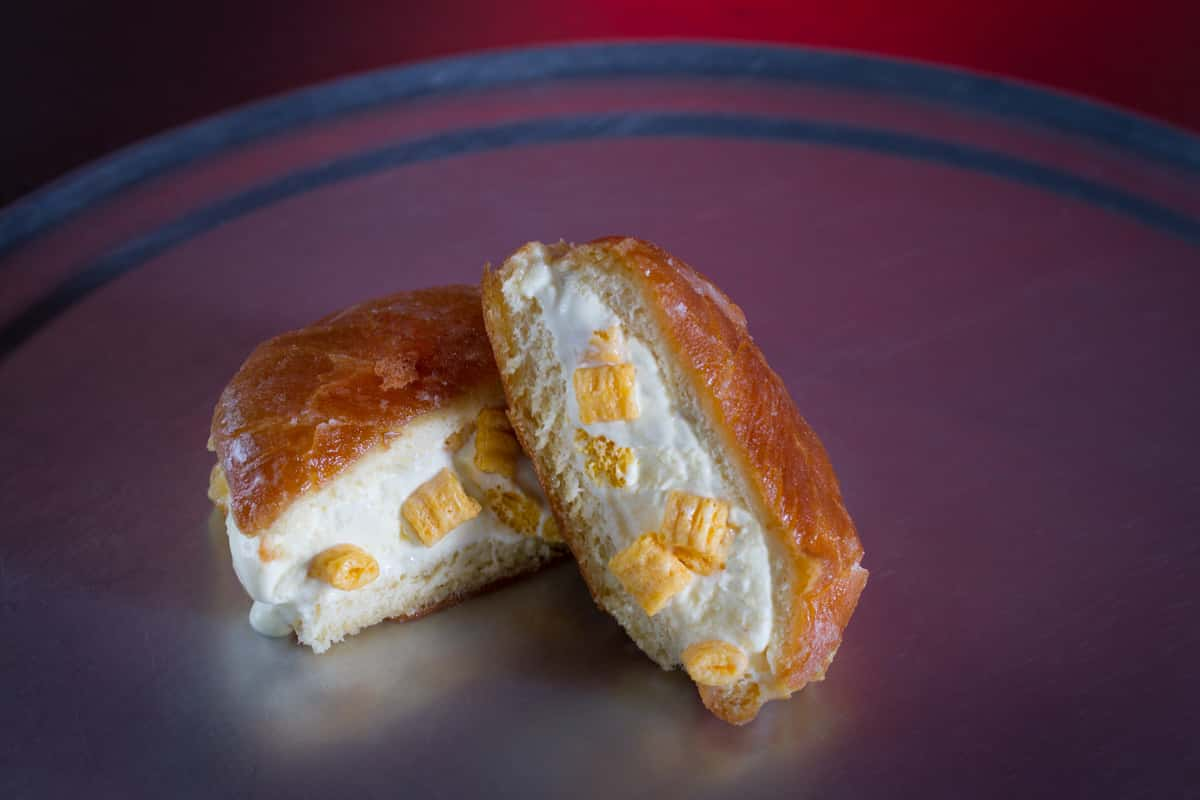 Home of the Creamy Bun
HERTEL AVENUE Poutine & Cream
Home of Freak Shakes & Creamy Buns
What goes together better than poutine and ice cream? Pretty much nothing — and that's why we established Hertel Ave Poutine & Cream. We know you loved our poutine dishes at our flagship eatery: Allen Street Poutine, which we launched in 2015. The success we've experienced there has been nothing short of amazing (we'd like to thank our many fans and regulars for spreading the word about us). Now, we've decided to expand our local footprint with this new venture. Where'd we get the idea for poutine plus ice cream? One of our co-owners, Jake, always liked the idea of French fries dipped in milkshakes. Who can blame him? And so, the idea for Hertel Ave Poutine & Cream evolved from there. And now, it's the first and only poutinerie and creamery in the area.
We want you to be part of our family, so the next time you're in share your experience by using #poutineandcream, #eatpoutine, #creamybuns, #freakshakes, or #handcrafted and spread the love!
Order Online
Our Menu: 100% Homemade or Locally Sourced Ingredients
Everything we serve here is either made in-house or sourced from local vendors. Take our fries, for instance. We cut them ourselves and prepare them using the Belgian Frites method (cutting thin and frying twice). That way, they're super crispy on the outside, yet fluffy and moist on the inside. To make our poutine, fries are then smothered in homemade beef or vegetarian gravy and locally produced cheese curds.
For our ice cream, we only serve the good stuff — and we make it all from scratch daily. That means ice cream that's 18% milk fat. We offer many classic flavors, including Nutella, chocolate, vanilla, strawberry, peanut butter, cake batter and a vegan option, with many tasty ideas always in the works.
But we don't stop there. Our ice cream menu also includes plenty of unique treats you can't get anywhere else. Our Creamy Buns, for instance, are Famous Donuts' homemade donuts filled with our rich, velvety ice cream on the inside and toppings on the outside. And our Freak Shakes pack loads of frozen delights into a classic mason jar. You can choose from The Chocolate Mouse built from peanut butter and chocolate ice cream, or The Cookie Monster with cookies and cream ice cream, as well as several others. We also offer a variety of specials throughout the month.
Our Ambiance: It's Cool & Casual
Ok, so you're wondering, what's the ambiance like? Hip, cool, family friendly, come as you are, casual…all of the above. But most of all, Poutine & Cream is designed to be fun. Our environment attracts people of all ages from both sides of the border. If the weather cooperates, you're always welcome to sit outside on our seasonal sidewalk patio. We also offer a smaller version of the famous white tile wall from our Allen Street location, which guests are encouraged to draw or write on and leave us a message. We even provide the markers at the front counter.
You know all about us. Now it's time to stop in and experience the unique deliciousness that is Hertel Ave Poutine & Cream for yourself. We're open a lot… from 11:30 a.m. to 12 a.m. Mondays through Saturdays, and Sundays from 11:30 a.m. to 11 p.m. So, come on in and indulge. We're looking forward to serving you!
Watch
"Poutine and Cream" Opens on Hertel Ave
@ WIVB
Watch
Hertel Avenue Poutine & Cream to Open Next Week
@ WGRZ
Read
Hertel Avenue Poutine & Cream Goes All Out with Freak Shakes & Creamy Buns
@ Step Out Buffalo
Watch
Want Some Fries With That Shake?
Taste & See
@ WKBW